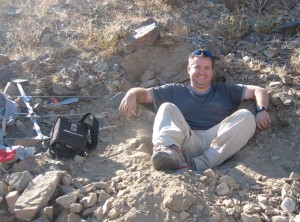 For several years, I have been interested in understanding the genomic underpinnings of adaptation and phenotypic complexity. Whether adaptation is typically the sum (or product?) of change in many genes each of small effect, versus the result of a single change of large effect is an extremely interesting, unanswered question. High-throughput sequencing, combined with a deep understanding of ecology and evolutionary biology offers researchers a unique opportunity to lay fundamental questions, like this one, to rest.
As a post-doctoral fellow with Michael Eisen, at UC Berkeley California Institute for Quantitative Biosciences,  I have been attempting to understand the genomic underpinnings of physiologic water conservation (e.g., anuria) in desert-adapted rodents, especially Peromyscus and Chaetodipus, using a combination of high-throughput sequencing and physiology experiments.
In addition to this, I have observed an interesting, mutually exclusive relationship between an unknown tick species  (looks like a Laelapid, per Barry OConnor) and Chaetodipus spinatus. I have been hot on the trail of discovery with regards to this observation, tick transcriptome, host-parasite, and tick gut-metagenome stuff.
See my Curriculum vitae for detailed info about me and my work. I'd love to hear from you! Please contact me with inquiries!
In addition to my main projects, I'm working on several other projects. I'm going to try to put some info on my research page about each of these.
Genomics of social behavior in the tuco tucos (Ctenomys sociabilis)
Investigating the genomics of the 'winner effect' in jumping spiders (D. Elias, M. Kasumovic)
Poison Dart Frog (Oophaga pumilio) genome project (C. Richards-Zawacki, M. Eisen, R. Nielsen)
The Genetics of Dendrobatid frog color polymorphism (R. Nielsen, K. Summers, M. Eisen)

 
Page Last updated: 19 December, 2012